Webinar
Implementing and Validating a CDS - Things to Consider
Chromatography Data Systems (CDS) are becoming increasingly sophisticated, providing greater potential for productivity and efficiency gains within your lab. In order to extract the greatest value from your CDS, it is important to understand what's involved in the implementation and validation process before you start your CDS deployment.
In this one hour webinar, learn the key things to consider when implementing and validating your CDS. Join our group of experts as we discuss matters such as:
Is this the first implementation of a CDS, or will you be transitioning from an older system to a newer one?
Is this a single site, regional, or global implementation?
Is there a need to harmonize the intended use of the CDS?
Do you have a full list of instrumentation and firmware versions?
Do you have the staff with the required experience and availability?
Do you know exactly what you need?
---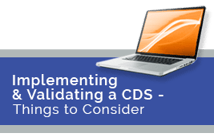 Key Takeaways:
Discover what it means to fully implement and validate a CDS
Learn how best to prepare for your CDS implementation and validation effort
Understand common areas to consider and industry best practices for validating a CDS
Gain insight from our experience in implementing and validating small to large CDS systems