Webinar


Maximizing LabVantage LIMS' Value and Minimizing Implementation Risks
Congratulations on selecting LabVantage 8 for your laboratory's LIMS! In CSols' experience, successful LabVantage LIMS implementations begin with a set of critical preparatory tasks. Organizations that complete these tasks are more successful and get more value out of their LIMS.
To maximize value and minimize implementation risks, prepare thoroughly for LabVantage's post-contract onsite scoping study. The most successful organizations create a LIMS roadmap, clearly define project scope, determine implementation phases and prioritize instruments and processes to interface and automate before the scoping study begins.
Once both parties accept the scope, a LabVantage Business Analyst performs a more detailed, onsite requirements gathering. Organizations that prepare for this visit by optimizing high priority processes, refining existing requirements documents and preparing static data to meet LabVantage's specific needs further maximize the LIMS' value.
In one hour, learn how to get the most value out of your LabVantage LIMS by undertaking critical pre-implementation tasks and how expert resources improve the chances of success. Join our group of experts as we discuss LabVantage LIMS-focused process optimization and prioritization strategies. Understand how you can prepare for LabVantage's site visits to maximize value and minimize risk.
---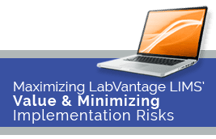 Key Takeaways:
How to increase buy-in from future users by managing their involvement throughout the process
How to select processes to improve and automate with a value- and risk-based approach
How to prioritize process improvements that fit into LabVantage's implementation methodology
The value a third party can bring to a large project with diverse stakeholder groups
Techniques to get the most out of your business analyst's allotted service hours
Important differences in special LV offerings (e.g. LV Pharma and LV BioBanking) to consider during the process