Webinar
Optimizing your Waters Empower™ 3 CDS Validation
Optimizing your Waters Empower™ 3 CDS validation to demonstrate compliance for its specific intended use and being able to stand up to any regulatory audit is every lab organization's goal. To accomplish this goal, your validation package must encompass your specific needs and any custom tailoring you may have implemented or have planned for your system. This will require planning and testing that goes beyond standard IQ and OQ. The right combination of expertise and resources will also be critical to the success of your Waters Empower 3 validation.
In this one hour complimentary webinar, we will discuss the best approach to validating the Waters Empower 3 CDS. Validation best practices will be explored so that you can be confident that all of the proper planning, supplemental testing, and traceability is identified and executed, as necessary. Also, to ensure that your overall validation effort is commensurate with your needs, we will be discussing the importance of gap and risk analyses.
---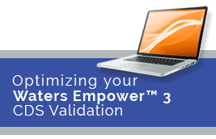 Key Takeaways:
Discover how you can optimize your Empower 3 validation to become audit-proof.
Explore best-in-class validation planning, testing, and documentation practices.
Learn why "cookie cutter" approaches to Empoewr 3 validation will not yield the results you need.
Understand the expertise and resource levels needed to achieve a maximized validation outcome.