Webinar
Where to Start When Planning for a LIMS or ELN
If you have never experienced adopting a new laboratory enterprise software solution such as LIMS, ELN, or SDMS, then you may not be aware of the amount and level of planning that is required in order to be successful. It is not unusual that an inexperienced lab informatics team will become overwhelmed by all the tasks and steps that need to be accomplished and coordinated throughout the lifetime of the project. In fact, it is not uncommon that critical aspects of the planning process may not be even known or understood and will therefore be ignored. Some of the most critical—but most often overlooked—parts of implementation planning are static and master data management, process optimization, and resource allocation. Let our lab informatics planning expert show you what to look out for before you begin your implementation.
In one hour, learn what steps to take to plan the implementation of your new laboratory enterprise solution (LIMS, ELN, SDMS, etc.) the right way, the first time. Critical aspects of the lab informatics planning process, that are often overlooked or misunderstood, will be reviewed.
Remember, planning ahead makes the difference between a successful lab informatics project and a failed one—don't miss this opportunity to learn about planning for success!
---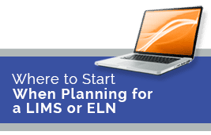 Key Takeaways:
Techniques for determining laboratory and business priorities
The value of a laboratory informatics (LIMS or ELN) roadmap to the success of your project
Common laboratory informatics gaps and the value of performing a gap-fit analysis
What is "pre-planning" and why you need to do it
Critical resource and project management considerations for pre-planning and implementation
Common failure points of master data management that can compromise your LIMS or ELN
When and why to incorporate process improvement in your project