Computer System Validation - More than Writing Test Scripts
When you think of validating a computer system, what comes to mind? For many, it's testing to verify the system performs as needed, and maybe a test plan, but not much else.
Has a risk assessment been performed?

Does your testing team have the time and/or experience (regulatory, domain, system) to create and execute test scripts?

Has the appropriate documentation (validation plan, configuration/design specification, etc.) been developed and reviewed?

Are your SOPs complete and up to date?
Thinking you can get by with using a generic validation plan or just the vendor's provided scripts could put your company at risk during an FDA audit. Did you know that 483s are issued for lack of or poorly documented validation of the intended use of the system and undocumented validation processes?
---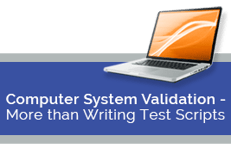 Key Takeaways:
Discover the top 5 validation mistakes you may not know you're making

See how having the right team and resources ensures validation success
Learn the importance of performing risk assessments
Obtain your top validation documentation checklist

Request a Recording of the Webinar