Implementation of a STARLIMS Life Science v11.1 LIMS
Situation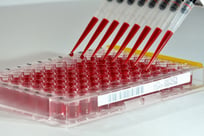 A large biopharmaceutical company has multiple labs in various regions around the world that receive large quantities of samples from many different clinical studies every day. The company needed to upgrade its lab processes, which were primarily paper-based and supported by an outdated SQL LIMS, to more efficiently handle the samples.

Before the STARLIMS project got underway, samples from multiple clinical studies arrived to the lab with a paper requisition form and were then checked in to a BioMicroLab instrument that printed out details of sample volumes for each. The lab had detailed aliquoting plans for each clinical study, and the samples would be prepared based on those aliquoting plans. Aliquoting is done manually or automatically by instruments, and then the parent samples are moved to storage and aliquots are moved to shipping boxes to be transferred to various testing groups. Keeping track of this process on paper was inefficient and had increased risk of human error. Implementing the STARLIMS product would solve these issues for the client.
Through careful planning and execution, the client was able to get their issues resolved. Read on to learn how.
Fill out the form to the right to request the full Case Study »