Implementation of a Tailored Electronic Research Work Request Process (Integrated with LabWare 7 LIMS™) at a Global Biopharmaceutical Company
Situation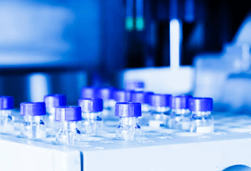 A global research-based biopharmaceutical company focused on the discovery, development, and commercialization of innovative medicines needed a way to streamline the sample login process for Research requests.
Paper forms were used to manage incoming research samples prior to laboratory login, and those forms serve as the request media. LabWare LIMS was used within the lab for sample and request tracking, analysis and results capture, reporting, and full electronic audit trail.
The use of paper forms resulted in critical research requests getting lost, incomplete data on the forms, broken chain-of-custody, transcription errors, and created a bottleneck in the overall research process.
Without expanding expensive LIMS licenses, the client needed a way to serve its "customers of the lab" by providing a real-time, interactive electronic means of submitting requests, make updates, and provide better visibility into their research requests.
Fill out the form to the right to request the full Case Study >>