Webinar
Time to Revisit your Laboratory Informatics Strategy
Is your lab informatics space littered with multiple products that seemingly perform similar functions? Whether this has occurred through acquisitions or mergers or just through internal growth, it is likely that you are not deriving the optimum business value from your current investments.
Has your business model so dramatically changed through divestiture or product retirement that you now question whether your current lab informatics solutions are providing your business the support that it needs?
No matter how you got here it is time to develop a new Lab Informatics Strategy. In one hour, we will give useful strategic advice to guide you through each of these scenarios. We'll also discuss the critical success criteria as you consider your next laboratory informatics strategy.
---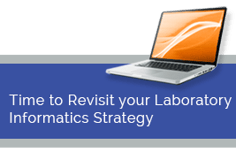 Key Takeaways:
Learn how global harmonization and alignment can be addressed in a strategic manner

Lessons learned to help you develop and manage your lab informatics strategy
See why Change Management is critical to your harmonization and standardization goals
Key Performance Metrics to measure your informatics strategy's success
Understand how Regulatory Requirements and Compliance can affect your informatics strategy
Learn how to get your informatics architecture and systems under control
Hear how business objectives need to drive your informatics strategy