Webinar
Tips 'n' Tricks for a Successful IDBS E-Workbook Implementation
There is much more to implementing your IDBS E-Workbook than just following the vendor supplied installation procedures. In order to avoid costly implementation delays and low user adoption rates, it is critical to undertake adequate planning.
You will need to understand your data needs, develop and document your workflows, and establish your implementation approach. Securing the right resources for your implementation and the associated testing activities, as well as establishing your communication and escalation procedures, is also critical and will reduce issues and delays in your project.
In one hour, receive professional advice for successfully implementing your IDBS ELN system, including strategies on how to reduce delays and avoid implementation pitfalls.
---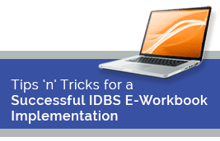 Key Takeaways:
Learn about the challenges of IDBS E-Workbook folder and data organization

Recognize why collaboration and communication are key to a successful ELN implementation

Discover how proper planning and resource utilization enables E-Workbook data analysis and decision making

Become familiar with how a well-implemented ELN system speeds up patent filing

Learn how to select the team members and SMEs with the right skills and experience