Webinar
Deployment Strategies for Realizing True Business Benefits
In the beginning of your Laboratory Informatics (LIMS, ELN, SDMS, etc.) project you likely developed a Strategic Plan which would have included a high level description of your deployment strategy. Now that you have selected your laboratory informatics solutions, it is time to flesh out the deployment details. Typically, even in single site implementations, deployment is likely to consist of multiple phases. For global, multi-site implementations, the number of deployment options can be overwhelming.
What are the critical deployment components that must be considered in order to realize the business benefits of your informatics investment? How do you ensure your deployment plan represents acceptable risk and is geared towards success?
In this one hour webinar, you will learn best practices for defining the most appropriate laboratory informatics deployment model for your organization. We will also review approaches for managing the significant change that the new technology deployment will present. So set aside an hour of your time and learn how you can develop a Deployment Strategy that will enable you to realize true business benefits.
---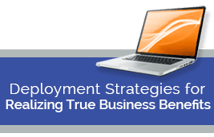 Key Takeaways:
Understand why lab informatics deployments are different from other IT deployments

Learn how to achieve early successes and avoid failures in the deployment process

See how focusing on system adoption will ensure an optimum deployment model

Identify the critical elements of your deployment strategy

Hear how investment in change management can reduce risk and increase probability of success

Learn some techniques to identify and mitigate risk