Webinar
SAP QM or LIMS, which is right for your lab?
You've heard that SAP QM has fully functional LIMS-like capabilities. You've also heard that SAP QM is not a replacement for a LIMS. Which of these statements is true? In addition you know that within some industries it is typical for both SAP QM and LIMS to be implemented. Why are different approaches used? Further complicating the situation are your desires for improved automation and paper reduction through the introduction of ELN (Electronic Lab Notebooks) and LES (Laboratory Execution Systems). What is the right mix of systems for your lab / organization?
In this one hour webinar, we will look at different scenarios where these systems that have been used to effectively manage analytical testing and test results. We will identify the key characteristics that help determine the best solution. So set aside an hour of your time and learn whether SAP QM or LIMS or both is "right for your lab".
---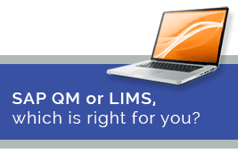 Key Takeaways:
The characteristics of a lab / organization that help define the system to be used
Issues that must be considered when using both SAP QM and LIMS
How ELN and LES may impact your overall decision
Cost considerations that impact your decision