Webinar
ELN Phase 2: Broadening the Utilization of Your R&D ELN
Whether your company took a broad and shallow or a more detailed workflow by workflow ELN implementation approach, your initial ELN implementation is now complete. You have satisfied your initial goals of moving towards a paperless environment and protecting your IP. However, now that you have used your ELN for some time and have gained more experience, it is a good time to take a step back, set some new goals, and analyze how your current ELN can be enhanced and expanded to meet those goals. Now is the time to start thinking about what's next!
As you start planning Phase 2 of your ELN project, several questions come to mind that need to be addressed:
Are we getting the most out of our ELN?
Can our ELN be leveraged to yield more benefits?
Do we need more structure/organization in our ELN?
Can we find / share our data?
How can we extend our ELN to support other areas?
How can we coordinate and share our R&D projects through the ELN?
In this one hour webinar, in addition to exploring the basic capabilities and functionalities of R&D ELN systems, we will examine how using an ELN effectively can further improve your organization. Expanding the use of your ELN to other areas of your R&D operations will also be discussed. As well as how the ELN's power of centralizing and handling internal and external laboratory scientific data in both regulated and non-regulated environments can be used to increase collaboration.
---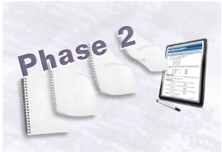 Key Takeaways:
Gain an understanding of other functional groups that could leverage your investment in an ELN
Determine if your existing ELN workflows perform as intended
Move past the basic features of your ELN
Balancing structure and benefits
Hear some example cases