Webinar
Extending LabWare LIMS beyond the Lab with Simplica
You may have implemented or be implementing a LabWare LIMS that performs perfectly within your Lab, but does it provide equal value to users OUTSIDE of your Lab? Can infrequent users of your system rapidly navigate and execute their tasks in an efficient manner? Can external customers of your services log samples, review status and generate reports on demand with little or no training.
If you answered "No" to either of the above questions then this webinar is for you. In this one hour webinar, we will describe the benefits of extending your LabWare LIMS beyond the Lab using Simplica's custom web interfaces. We will discuss:
Why users outside of the Lab require a different UI

How to define the requirements for an extended UI

Mapping business process to LIMS functionality and modules

On demand reporting

The technology behind Simplica's web interface
This discussion will be followed by a Case study on the implementation of LabWare LIMS with an extended UI. The case study will include a live demonstration of the UI.
---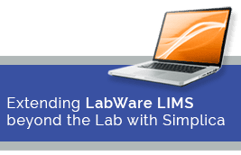 Key Takeaways:
The business benefits of the extended UI

The Infrastructure required to support the extended UI
"So that's what an extended UI looks like"