Forensic Labs: A strong case for LIMS
Today's Forensics Labs are faced with lean budgets, an increased demand for their services, and increased scrutiny based on laboratory accreditation. In addition, they are faced with the challenge of ever advancing and increasingly costly technological advances. "Doing more with less" is perhaps more applicable to Forensics Labs than any other type of analytical laboratory.
The latest evidence proves, beyond a reasonable doubt, that implementing a LIMS can help you increase productivity and efficiency and satisfy your accreditation requirements – but only if it is planned and budgeted for correctly.
In one hour, join us as we examine the benefits of a Forensic LIMS and how these benefits can be realized in your Lab.
---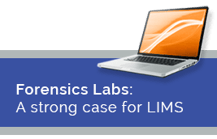 Key Takeaways:
The benefits you can expect to realize from implementing a Forensics LIMS

Hear how a LIMS can increase productivity and efficiency
Learn why investing time up front for planning and specification will help avoid disappointment

Understand the total cost of implementation, not just license costs

Request a Recording of the Webinar