Webinar
Get the Most from your LabWare LIMS™ Solution
Are you getting the most out of your LabWare LIMS™? In the rush to go-live, it is not unusual that many productivity enhancing capabilities are never implemented. Capabilities such as instrument interfaces, system interfaces, automated reports, and dashboards are put off to "Phase 2" which mysteriously never happens. Additionally, if you have been running LabWare for some time, your needs and requirements may have expanded or your workflows may have changed. And finally, what are you missing by failing to take advantage of new features and functions because you haven't upgraded yet.
In one hour we will explore some of the highest productivity enhancing capabilities of LabWare LIMS that you should be taking advantage of. We will also share how you can extend and enhance your LabWare system to get more value for your organization as well as what information you need to decide if upgrading your system would be worth the time and effort (Risk/Reward Analysis). Join us as we take you through how to Get the Most from LabWare LIMS.
---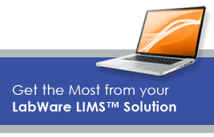 Key Takeaways:
Discover how to enhance your productivity by implementing high return LabWare LIMS features
Learn how to increase system user satisfaction by implementing capabilities that scientists really want
Find out how taking a fresh look at your lab operation can increase the value of your LabWare solution
Discover what you need to know to determine if upgrading your LabWare LIMS is worth it (Risk/Reward Analysis)