Webinar
Getting the Most from your Waters Empower 3 Upgrade
You know that you are going to upgrade your Waters Empower™ CDS to Empower 3. You will be investing significant effort in the upgrade especially if you are in a regulated environment where the validation effort alone will be significant. But instead of viewing this as just another project that you will have to complete, you should be viewing this as an opportunity to streamline your chromatography operations with only a small delta increase in effort. As with any process improvement initiative, now is also the time to gain a thorough understanding of your chromatography workflows and customer needs.
Your upcoming upgrade presents an opportunity to ask your organization critical questions such as:
Are there functions that are currently being performed external to the CDS that can now be performed within Empower 3?
Are the current reports fully satisfying the needs of your customers?
Which new features offered in Empower 3, if implemented, can provide productivity and performance enhancements?
Are your current chromatography processes optimized and harmonized?
How can I minimize my CSV effort for this upgrade?
In this one hour webinar, we will describe some of the most important new features of Empower 3 and outline a process that will ensure that your laboratory organization will "Get the Most from your Waters Empower 3 Upgrade".
---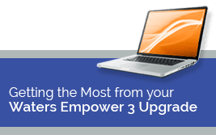 Key Takeaways:
G

ain an understanding of how you reevaluate your needs, requirements, work processes, and reporting needs

L

earn how to optimize your chromatography processes by leveraging the Empower 3 upgrade opportunity

Hear some new tips and tricks that are available with the Empower 3 CDS

Determine if your existing Empower reports will perform as intended post go-live with Empower 3

E

xplore some of the new features and functions available with Empower 3 and how they may apply to your lab