Webinar
Lab Informatics Project Leadership: Doing the right things
Lab Informatics projects are becoming increasingly complex and more difficult to plan and execute. The traditional approach of working with the product vendor and internal SMEs to build a plan and then execute it according to the "Triple Constraint" success factors of on time, on scope, and on budget oftentimes fails to enable one to realize the full potential business value. How can we shift the focus away from the delivery of functionality towards the delivery of business value?
Organizations are beginning to recognize the importance of thinking more strategically, focusing on the objective of greater long term value rather than just tactical project execution. Effective project leadership, in addition to effective project management, is the key to establishing this long term business value.
In this one hour complimentary webinar, we will describe the required expertise of effective lab informatics project leaders, how their skills complement those of a generic IT project manager, and how they can work together to realize long term business value.
---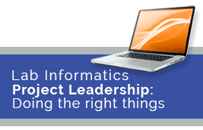 Key Takeaways:
The differences between project leadership and project management
The skills and expertise required of a project leader
The benefits of an increased investment in upfront planning
Why managing to the three constraints (scope, budget, duration) is not always in the best interest of the organization
The importance of project leadership through the project life cycle, from inception through deployment.