Webinar
Managing Multi-Sourced Lab Informatics Teams
The benefits of high performance project teams have been widely heralded. Documented benefits of high performance teams include increased creativity and productivity, prudent risk taking, and strong sense of ownership. High performance teams are more than just a group of experts working on their respective tasks. High performance teams have open and honest relationships with each other and work together as a whole to meet their project goals. Establishing these high performance teams is challenging even when all the team members are your own internal resources. But what if in order to meet deliverable targets, or because you lack the appropriate lab informatics expertise in house, there is a need to employ consultants from a variety of different contracting sources.
How do you establish and manage a high performance team under these circumstances? How do you integrate the team such that team members all share common project goals and the objectives of your company rather than serving their respective companies best interests? How do you ensure that when the project concludes that your internal staff has gained sufficient knowledge in order to move forward independently?
In this one hour webinar, CSols' project managers, with real world experience, will discuss how to tackle the unique challenges presented by establishing and managing a Multi-Sourced Lab Informatics team.
---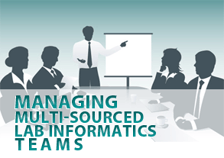 Key Takeaways:
The characteristics of a highly effective project team
The typical roles that should be performed by internal staff
How to successfully integrate external resources into the project team
What to look for in a consultant