Webinar
"Oh, the Places You'll Go"... The Future of Lab Informatics
Lab Informatics has made great advances over the last two decades with software systems (e.g. LIMS, ELN, LES, SDMS, CDS) bringing greater productivity and efficiency to the lab environment. Driven by evolving regulations and advances in technology, science, and automation, the reach and value of Lab Informatics software has both broadened and deepened. Also playing a role in the continuing development of lab informatics are real world cost and resource constraints.
We have witnessed significant changes in the past, what changes can we expect in the future?
In this final CSols' webinar of calendar year 2016, we will review the current state of Lab Informatics, and through an understanding of what has happened in the past, peer over the horizon to examine what the future may hold.
---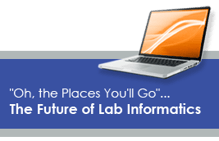 Key Takeaways:
How regulations have been a driving force for Lab Informatics innovation
How scientific advances challenge the existing Lab Informatics paradigm
What cloud and mobile computing technology offer to the Lab Informatics domain
The role of automation in high throughput operations
The functional convergence of ELN, LES, and LIMS
What the future of Lab Informatics may hold