Webinar


Overcoming Informatics Validation Challenges through Proper Planning
The validation of informatics systems (LIMS, ELN, SDMS, etc.) in regulated environments continues to be a challenge for many organizations. While the rules and regulations that apply vary somewhat from industry to industry, such as pharmaceutical, medical device, and food & beverage, the universal constant for all is that an informatics system be validated for intended use, with the system itself and supporting documentation being able to stand up to the scrutiny of a regulated audit. Unfortunately, it is all too often that the validation of informatics systems are left to the end of the project, resulting in a mad scramble to get everything done. The resulting chaos can be very costly in terms of time, resource utilization, and money and delay the utilization of your mission critical LIMS, ELN, or SDMS.
For one hour, join our group of experts as we discuss why proper planning increases the efficiency and consistency of your validation effort and better prepares your team to answer inspectors' questions and defend your process.
---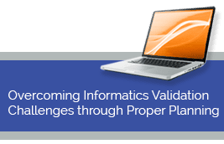 Key Takeaways:
Discover typical challenges in software validation

See how proper planning can help prepare for and overcome challenges
Understand what is involved in the planning process
Learn from case studies where planning made projects a success