The "Paperless Lab" – A Practical Approach
The "Paperless Lab" has long been the goal of laboratory organizations seeking to fully automate and integrate their operations. However, can you truly eliminate all the paper in the lab? And more importantly, should you?
In one hour, we will explore the benefits of a paperless system, how to determine how much or how little paper to eliminate, and how to prioritize what is eliminated based on ROI and risk mitigation. Join us as we take you through a practical, risked based approach to your "Paperless Lab" strategy.
---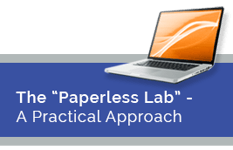 Key Takeaways:
Hear the benefits you can achieve by moving to an optimized paperless system

Discover the most common challenges to reducing paper in the lab
Learn how to apply a Risk-Based Approach to your paperless lab strategy

Discover why going fully paperless is actually a Myth

Request a Recording of the Webinar