Webinar
Understanding LabWare Reporting Capabilities
A LIMS (Laboratory Information Management System) is an invaluable tool for administering your laboratory operations. Among other things, it is excellent for capturing, analyzing, and managing data generated in labs. However, one of the greatest challenges regularly confronted by lab organizations is the efficient and flexible retrieval and presentation of lab data in formats that are easily interpreted and valued by stakeholders. There are many different techniques that can be used to empower LabWare users to find, retrieve, and format meaningful lab data. In today's webinar we will explore a number of these techniques.
In one hour, learn about various design and configuration options for enhancing LabWare reports to meet your reporting needs. Join our group of experts as we demonstrate, discuss, and answer questions regarding data retrieval and report development in LabWare. After attending this webinar, you will understand the scope of available capabilities and a wide array of technical options open to you to make finding, retrieving, and reporting data from your LabWare LIMS successful.
---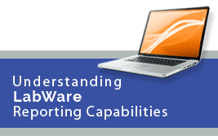 Key Takeaways:
Improve and expand your LabWare reporting capabilities
Discover different approaches to reporting in LabWare, including options for collecting selection criteria, output formats, and report design.
Observe examples of reports and how LabWare reporting decisions can be made.
Learn about the scope of available capabilities when designing reports in LabWare.
Understand pros and cons of different reporting techniques.