Webinar
Validation - Friend or Foe?
Regulated industries demand the validation of Lab Informatics systems prior to use. How you treat validation, with forethought or as an afterthought, will determine the overall success of your project as gauged by cost, effort, and duration. Planning the validation activities within the overall implementation schedule will enable business benefits to be derived in addition to satisfying regulatory requirements.
In this one hour webinar, discover how planning the implementation and validation activities holistically will result in a more effective implementation, and understand that validation is largely a co-dependent component of a well-planned project, rather than a burdensome add-on.
---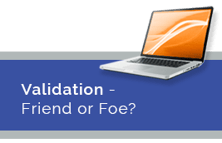 Key Takeaways:
Discover the key areas where validation is the natural outcome of a rigorous system implementation

Identify the one main reason for uncertainty and delay in implementation and validation
See how validation controls improve system quality

Learn how to integrate the overall project plan with the validation plan and why it really matters